Introuction
AC tubular motors for garage doors consist of a travelling part, a motor part and a reduction part. The three parts work inside a steel tube, hence the name. Working principle: the stroke part controls the upper and lower limits of the motor; the motor part is responsible for the motor operation; the deceleration part mostly adopts planetary deceleration to reduce the motor speed and increase the output torque.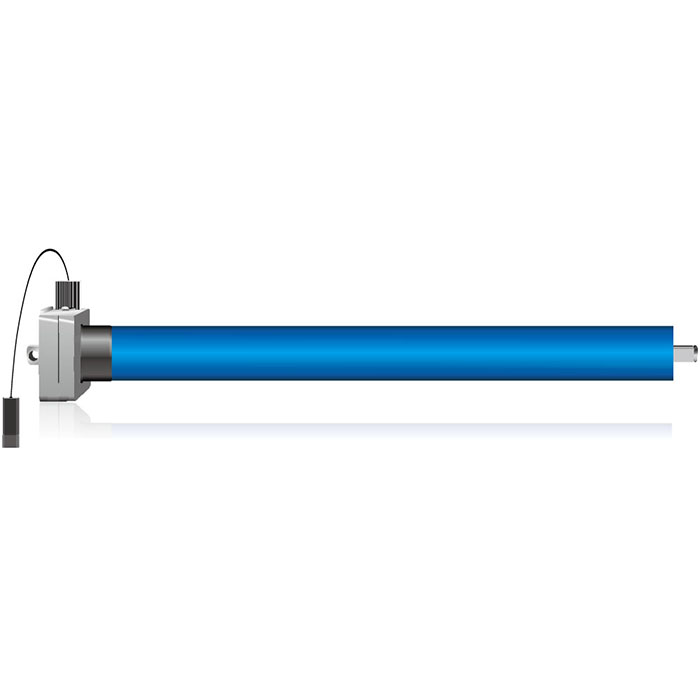 Characteristics
Firstly this custom tubular motor features advanced technology and design to ensure excellent performance. It is powerful and stable in operation. It is capable of smoothly opening and closing the garage door whether on smooth ground or slightly rough pavement. You would have no more struggling to pull the garage door. It just does the action automatically like magic!
Secondly, this custom tubular motor is manufactured from high-quality materials that are carefully sanded and finished to ensure durability and solidity. You don't have to worry about it malfunctioning due to frequent use. It can keep running efficiently for a long time and provide you with reliable service. Moreover it has a stylish design that blends perfectly with modern home décor and adds a touch of style and beauty to your home.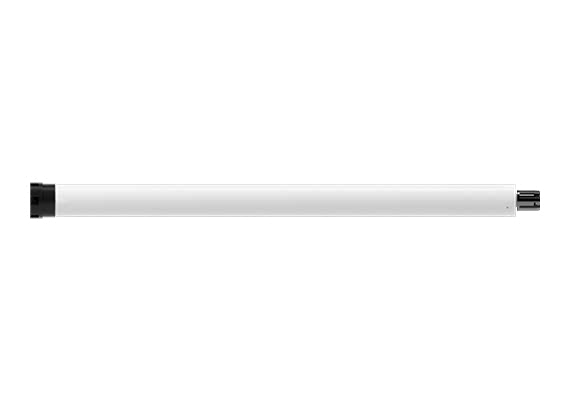 It is necessary to perform some simple maintenance occasionally although its durability allows you not to need frequent maintenance. It's a good thing that this custom tubular motor is designed with the user's experience in mind and it has a well-designed housing structure that makes it easy for users to carry out simple cleaning and maintenance. Therefore your motor always maintains a bright appearance and excellent performance.
This 45mm AC garage door motor is easy and convenient to operate without requiring too many steps. It is also equipped with an intelligent safety protection system that will automatically stop operation once it detects an obstacle in the doorway keeping you and your vehicle safe.
Lastly this motor operates with a very low-noise sound that won't cause any disturbance. It allows you to enjoy a peaceful garage space. It also boasts excellent durability and is able to withstand all kinds of harsh weather conditions without being affected by the elements. It provides your vehicle with all-weather protection.
Overall, the 45mm AC garage door motor is not only reassuring in terms of quality and performance but also has commendable features such as environmentally friendly energy saving and silent operation. It is a stellar product for home décor, adding colour to your garage door and making your life smarter, more convenient and comfortable. It is worthwhile for you to own this excellent motor whether you have a new or old house. Let the custom tubular motor become a reliable partner in your life and bring you a brand new garage door experience!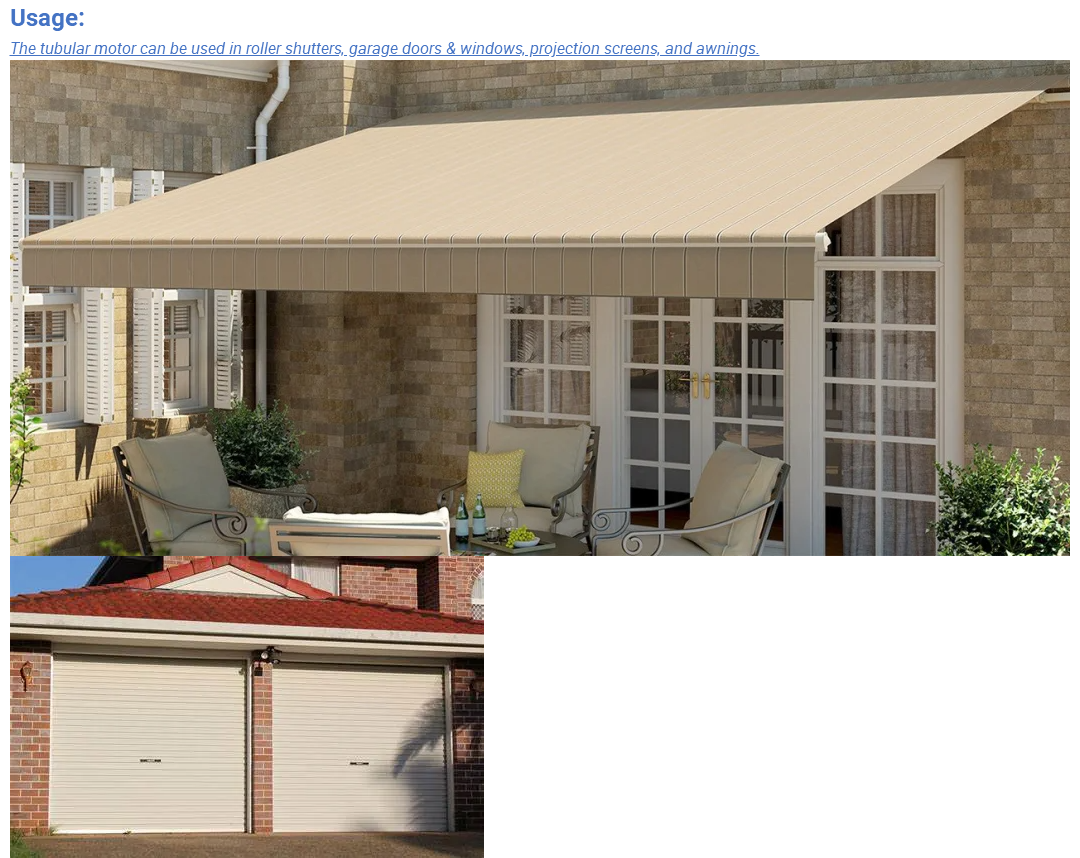 Manufacturing process
Firstly the custom tubular motor adopts advanced production technology and high-quality materials. During the manufacturing process we choose high-quality metal materials and electronic components to ensure the internal structure of the motor is sturdy and reliable and can withstand long-time operation and use.
Secondly each motor undergoes strict quality control and testing. We inspect and test each component to ensure that it meets high quality standards during the production process. After assembly we also conduct comprehensive functional tests to ensure that the performance and functionality of the motor are intact.
We also use advanced lubrication technology to ensure the stability and durability of the motor. Inside the motor we add advanced lubricants to reduce friction and noise during operation to extend the life of the motor.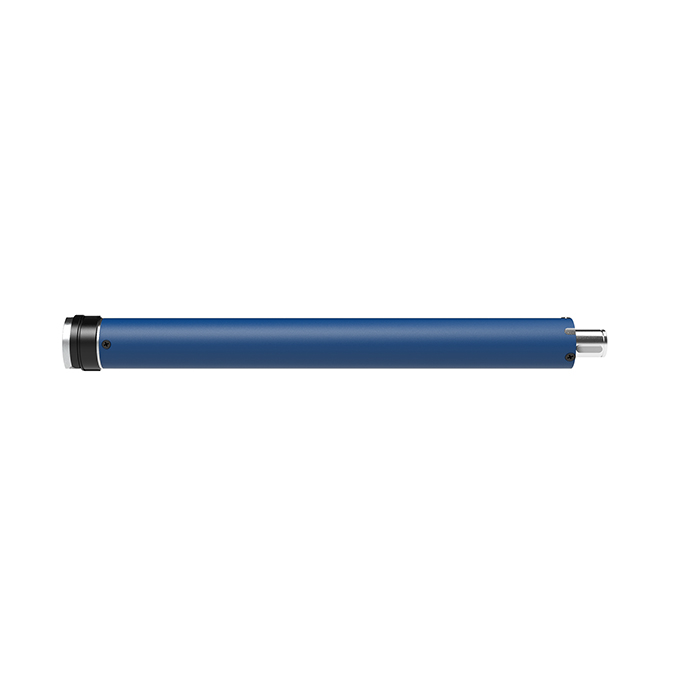 Finally we also focus on the appearance design of the custom tubular motor. It adopts a simple and atmospheric design style with a smooth and elegant appearance. It fits perfectly with modern home decor. It can add colour to your garage and become a bright landscape in your home Whether you are decorating a new home or remodeling an old one.
Summary
To sum up, the 45mm AC Garage Door Motor is a quality home improvement product with many impressive features. Firstly it boasts a superior manufacturing process using high-quality materials and advanced technology to ensure its stability and durability. Secondly it excels in garage door applications. It provides a convenient door opening and closing experience to make your life smarter and more comfortable. In addition it is praised for its eco-friendly and energy-saving features that help reduce energy consumption and environmental impact. In addition this motor features silent operation and simple maintenance. It providing you with a quieter and more convenient experience. Versatile options also add to its flexibility to allow you to choose different operating methods to suit your individual needs. Overall the 45mm AC garage door motor is a reliable, efficient and practical product that is worth choosing and owning.
संबंधित उत्पाद