DC300KG rolling door motor with battery backup
Main application areas:         
Copper wire winding shutter motor is mainly used to lift 4 meters wide galvanized steel, hollow iron, aluminum alloy material shutter door, shutter door height is below 5 meters.             
When the copper wire winding motor runs continuously for 7-8 minutes and the temperature reaches about 108 degrees Celsius, it will be thermal protected and automatically stop running.             
Accessories features:           
1.Limiter: adjusts the height of the rolling shutter door during the up and down process. The conventional configuration is two micro switches; some customers require four, and the other two are spare. When a problem occurs, it can work normally.
2.Gear box: We can see that there are two gears, one large and one small, in the gear box, the primary and secondary gears. We need to apply lubrication oil on the surface of the gear. The function of the lubricant is to reduce friction when the gear is running and reduce the sound of the motor during use.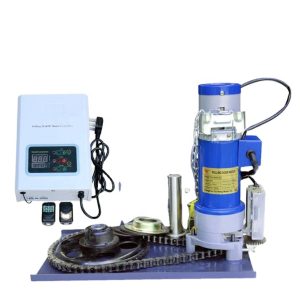 Products Feature:
1. Powerful starting strength
2. Overworking for a short time
3. Overheat Protection
4. Limit switch unit enables precise adjustment of door in up and down positions
5. Both electric and manual operations are available
6. Release chain in case of power failure
7. External remote controller is available
8. Safety device for preventing people or vehicle from damage in case of drive chain is break off.
9. Can be connected with backup battery.
Product item: DC300KG
Motor Color: Customized Color
Remote control: 2pcs per set
Limit Switch: 4Pcs
Protection Class: IP44
Certificate: CE / ISO9001
Lifting Force: 300KG
Rated Power: 200W
Rated Voltage /Frequency: 24V/ 50Hz             
                                                                                                                                                                                                                                                Packing Details: Two cartons per set: One for motor , one for bracket .